Hygienist

Dental Hygienists are specially trained in preventitive oral health, and assess, treat and monitor your dental hygiene. In the past dentists would do a clean and polish as part of a routine check-up, however our hygienists can offer a thorough and comprehensive oral health treatment. Most of our patients see Angela, our Hygienist every 6 to 12 months.

Studies have shown that good oral hygiene plays a role in overall health. Researchers have found that people who have periodontal (gum disease) have an increase risk of stroke, heart attack and diabetes. The same harmful bacteria found in the mouth have been found in arterial plaques that cause heart disease.

The treatment involved is the careful removal of deposits that build up on the teeth (plaque and calculus or tatar) and education in how to prevent it re-forming again. This will slow the progress of gum disease and can even prevent it.



Hygienists can advise on and treat:
Bleeding Gums
Bad Breath
Receding gums
Loose teeth

Sore gums
Tooth sensitivity
Redness and/or swelling of gums
Tooth Whitening
Our hygienist Angela has the latest equipment and an extremely caring and gentle manner.

Contact us on 09 489 7574 today for more information or to make an appointment.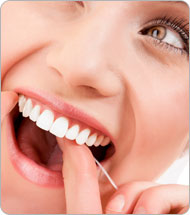 Omar is amazing, he
is not only a talented dentist, he is also
very caring and compassionate.


Angela Walker